SPS Pack Italiana Pack Systems
Founded in 1964 by Pietro Fioravanti under the name Italianapack, SPS Italiana Pack Systems rejoined the PFM Group in October 2003.
SPS specialises in automatic packaging systems for bakery goods and biscuits, stacked or on edge, as well as sandwich filling systems for biscuits and wafers. Main markets are Europe, the USA, the Middle and Far East and China.
SPS builds systems to pick and sort products arriving from conveyor ovens (biscuits) or cooling tunnels (chocolate bars), as well as various automatic feeding systems. Machinery includes high-speed flow-wrappers for single-portion products, multipacks and products arranged on edge, fillers for single or double-flavour fillings, various type of ancillary equipment and complete lines.Continuous research and development, on which SPS spends 3 per cent of turnover, together with regular training updates for staff, have allowed SPS to achieve the best possible use of technology within the design of its machines and automatic lines. These are also built using the highest levels of manufacturing technology employed in the industry. The technical department works both independently and in conjunction with PFM. Servicing and spare parts departments are structured for fast response to customer requirements, including remotely through the Teleservice on-line help system.Over the past two years company turnover has grown annually by more than 15 per cent.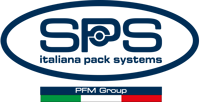 PFM Group
A group of companies
From the beginning, PFM has worked constantly towards helping our customersachieve success and create opportunity for innovation, along with encouragement in making the most from their resources and employees professional and personal skills
"Goals can only be achieved by manufacturing excellent quality machines" is the principle that drives PFM. This premise was the principle our founder based PFM upon, evolving over time, adapting to new design and manufacturing requirements to become a strategic priority today.
Research and Development are essential to the creation process, and is critical to identifying the technical means necessary to put an original concept into practice. PFM believes this function is crucial, so much so that our R&D department is run personally by the proprietors.
The innovation that PFM continuously has offered the markets over the years is the result of our investment into Research and Development. This can clearly be seen in the daily work of dozens of technicians who are encouraged to pool their skills, share their experiences and objectives. There is a deep awareness within these men and women that a new idea stems from a highly motivated, joyful spirit, which is irreplaceable in a modern company that sets its sights on the future, on an ever more selective and diversified market.
The strength of PFM Group remains in ouroriginal technological ideas, in our perseverance to create new concepts and technology, and absolute determination to be always one step ahead.
We are an organised, efficient and competitive company, and our aim is to offer you the very best every time.